By FCR-FC on Jun 14, 2017 with Comments 0
Russell Hood, Managing Director of First Choice Recruitment a recruiter with many years experience in the recruitment sector in London before moving to Gibraltar in 2010, was recently interviewed by the Gibraltar Federation of Small Business on recruitment in Gibraltar.
First Choice Recruitment has firmly established itself as one of Gibraltar's leading recruitment agencies, supplying temporary or permanent staff to a wide range of Gibraltar's businesses across a broad range of sectors.
Russell talks about taking the stress out of finding staff  in Gibraltar with the focus firmly on people and relationships with candidates and clients.
"I've experience both sides of recruitment agencies: as a temp and when hiring staff for my own business……"
The process of hiring staff is made remarkably easy for employers by Russell and his team.  "We do the leg work, from advertising a vacancy, making sure everything is appropriately registered with the ETB if required, to initial interviews and shortlisting, checking references and assisting with interview strategies and techniques the help the business make the final choice."
Please take a look at the article issued in Spring release of the Intouch magazine: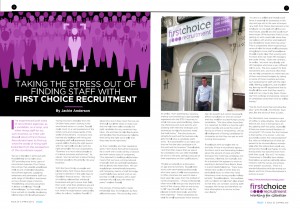 Filed Under: Latest News
About the Author: